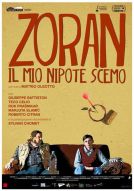 Matteo Oleotto
106min.
2013
Paolo je cynický Talian, ktorý sa od rána do rána nalieva vínom a keď sa nenalieva, sleduje svoju bývalú ženu. Jedného dňa zdedí slovinský poklad – synovca Zorana. Šestnásťročný outsider toho síce veľa nenarozpráva, ale má výnimočné nadanie – vie hádzať šípky. Paolo by to rád využil vo svoj prospech. Slovincova prítomnosť zmení nie len zabehnutý poriadok v malom meste, ale aj strýkov stereotypný a citovo vyprázdnený život.
Cynická komédia kritizuje svojráznu náturu obyvateľov malého talianskeho regiónu a stavia proti sebe dva ľudské archetypy, ktoré si sú najskôr veľmi vzdialené, ale pod vzájomným pôsobením sa začnú meniť a zbližovať.
Režisér o námete: "Po trinástich rokoch strávených v Ríme som sa rozhodol zamieriť späť domov do Friuli Venezia Giulia a nakrútiť tu svoj prvý film. Vždy som si myslel, že debut by mal človek nakrúcať o niečom, čo dobre pozná. Všetky tie roky v Ríme mi dali možnosť sa vzdelať a naučiť sa režisérskemu remeslu. Tiež mi pomohli striasť mentalitu malomesta, v ktorej som vyrástol a bol som ňou úplne pohltený. Toto odtrhnutie a následný návrat mi poskytli schopnosť pozorovať zvonku a zároveň mi dodali túžbu o tom rozprávať. Nejaký čas som si myslel, že na dedine sa nemôže stať nič zaujímavé. Dnes by som to už netvrdil. Zistil som, že mesto môže spôsobiť ochladenie a obmedzenie vzťahov: ľudia majú sklon sa ukrývať, splývať s davom, strácať sa sami sebe. Vo veľkomeste je veľa možností, ako sa potĺkať po rôznych štvrtiach a nestretávať sa celé mesiace, dokonca roky. Na dedine sa to nemôže stať. Malá rozloha dediny núti každého, či sa mu to páči alebo nie, byť súčasťou života ostatných: nedá sa vyhnúť pozornosti okolia, nie je kam sa schovať, nie je možné stratiť sa navzájom z dohľadu."
Režisér
MATTEO OLEOTTO
Taliansky herec, režisér a scénárista (nar. 1977). Absolvoval odbor herectvo v roku 2001 na Akadémii v Udine, štúdium réžie dokončil v roku 2005 na Centro Sperimentale di Cinematografia v Ríme. Desať rokov pracoval v televízii. Nakrútil niekoľko krátkych filmov,Can can (2004),Stanza 21 (2004), ktoré s úspechom uviedli mnohé zahraničné festivaly. Predtým ako sa začal naplno venovať filmovej réžii prešiel pestrým výberom povolaní: pracoval ako záhradník, operátor v call-centre, strážnik, čašník, inštruktor plávania, či basketbalový rozhodca, atď. Jeho celovečerný debut Zoran, môj synovec idiot mal premiéru na filmovom festivale v Benátkach, kde získal niekoľko cien a priazeň publika. Vo voľnom čase sa stará o rodinné vinárstvo.
O filme
Réžia: Matteo Oleotto
Scenár:
Kamera:
Strih:
Hudba:
Hrajú:
Ocenenia