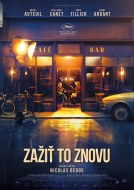 filmový klub Otáznik – kino Junior Levice
Vstupné 3,-€ a 5,-€ bez preukazu FK
Šesťdesiatnik Victor dostane od syna poukaz agentúry Cestovatelia v čase. Tá s pomocou filmových kulís a hercov dokáže zinscenovať akúkoľvek epochu. Victor si vyberie rok 1974. Ľudia v kaviarňach sa vtedy ešte rozprávali a nepozerali do mobilov a on v jednej z nich stretol svoju životnú lásku.
Akú dobu by ste chceli zažiť, keby ste mali tú možnosť? Takúto otázku položia v agentúre Cestovatelia v čase šesťdesiatnikovi Victorovi, ktorého dlhoročné manželstvo s Marianne sa rozpadá. Agentúra s pomocou filmových kulís a hercov dokáže zinscenovať akúkoľvek epochu a sprostredkovať svojim klientom stretnutia so slávnymi osobnosťami dejín podľa ich želania. A Victor práve dostal od syna ich poukaz. On sa však nechce pozrieť na dvor Ľudovíta XVI., podpis Mníchovskej dohody či opiť sa s Hemingwayom. Victor sa túži vrátiť do divokých 70. rokov a ešte raz prežiť prvé rande s Marianne – do čias keď ho milovala a on za to stál. Zažiť to znovu je originálna romantická komédia s výborným hereckým obsadením a dialógmi aké dokážu napísať len Francúzi. Film o tom čo by sa mohlo stať keby sme si mohli zopakovať tie najkrajšie chvíle nášho života.
Biografia režiséra: Nicolas Bedos (21. 4. 1980, Neuilly-sur-Seine, Francúzsko) je divadelný, filmový a televízny herec, scenárista a režisér. Za romantickú komédiu Pán a pani Adelmanovci (2017), v ktorej si zahral hlavnú úlohu s Doriou Tiller, bol ako režisér nominovaný na Césara za debut. Jeho druhý film Zažiť to znovu (2019) bol uvedený mimo súťaž na MFF Cannes. Filmy – 2017: Mr & Mrs Adelman (Pán a pani Adelmanovci); 2019: Zažiť to znovu (La Belle Époque).
Z rozhovoru s režisérom Ako vznikol nápad nakrútiť Zažiť to znovu? V hlave som mal obraz, alebo skôr situáciu, ktorá bola smutná a súčasne komická: Predstavoval som si muža, ktorý sa doma háda s manželkou. Tá ho kritizuje za to, že nechce chodiť do spoločnosti, že nejde s dobou, nesleduje technológie, Macrona, nevychádza s deťmi a podobne. Ten muž vyjde z kuchyne, prejde halou a vojde do malej izby, kde ho všetko – od výzdoby interiéru, cez LP až po staré VHS-ky – vráti naspäť do 70. rokov. Je to taká jeho ochranná bublina, ktorú si vytvoril pre seba, kde sa môže vrátiť späť v čase. Predstavoval som si ho, ako si zapaľuje galoásku, očami vyzlieka moderátorku talk-show v starom televízore v drevenej skrinke a s úľavou si vydýchne. Toto bol pôvodný obraz: muž, ktorý sa stráca v súčasnosti a nachádza úkryt v dobe, ktorej symboly ho ukľudňujú a chránia. Chcel som na film zaznamenať ten závrat, ktorý okolo seba občas cítim, sychologickú otravu a jej smiešnu a zároveň dojemnú protilátku. Pomaly mi som si začínal uvedomovať, že tento obraz v sebe ukrýva nielen kinematografický potenciál, ale aj veľa priestoru pre satiru. O to viac, že tento nápad vychádza z reflexie mojich blízkych, trochu môjho otca a v niektorých ohľadoch aj mňa. Mohol som tak rozohrať celý rad tém. Zvyšok bolo skutočné scenáristické dobrodružstvo. A súčasne psychoanalýza. Zažiť to znovu začína večerou odohrávajúcou sa v devätnástom storočí, ktorá ukáže, že film sa bude po celý čas s divákom hrať. Snažím sa robiť filmy, ktoré by som rád videl. Myšlienka filmového začiatku, ktorý nemá – čo sa týka štýlu, epochy alebo žánru – nič spoločné s tým, na čo publikum prišlo, ma bavila už ako malého chlapca. Na tento "napoleonský" prológ sme dokonca použili iné šošovky a ohniskové vzdialenosti. Strih napodobuje štýl pompéznych blockbusterov z produkcie Netflixu. Publikum sme chceli nechať okúsiť rovnaký duševný diskomfort, aký zažíva Victor, nechať ich vcítiť sa do tohoto chlapíka, ktorý vôbec nerozumie tomu, čo práve videl na tablete. Naozaj vôbec netuší, čo jeho syn robí. Na chvíľu som dokonca uvažoval, že postavu syna zahrám ja sám! (smiech)
PÍŠU NA IMDB
Réžia: Nicolas Bedos
Scenár Nicolas Bedos
Kamera: Nicolas Bolduc
Hudba: Nicolas Bedos, Anne-Sophie Versnaeyen
Strih: Anny Danché, Florent Vassault
Hrajú: Daniel Auteuil, Guillaume Canet, Doria Tillier, Fanny Ardant, Pierre Arditi, Denis Podalydès a ďalší.