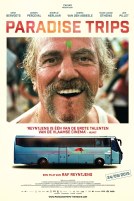 Raf Reyntjens
90 min.
Belgicko
Chorvátsko
Holandsko
2015
filmový klub Otáznik – kino Junior Levice
Vstupné 2,-€ a 4,-€ bez preukazu FK
Posledná cesta nevrlého vodiča autobusu, ktorý tak dostane šancu znovuobjaviť radosť zo života.
Cesta do raja je niekedy poriadna kľukatá. Hlavným hrdinom príbehu je Mário, neustále zachmúrený a nevrlý vodič diaľkového autobusu. Svojim autobusom vozil celý život dôchodcov k moru a teraz sa sám chystá na trochu odpočinku. Ako poslednú vezme jednu špeicálnu zákazku. Do kempu k moru totiž namiesto usporiadaných občanov vezie partičku mládeže, ktorá smeruje na hudobný festival. Vzájomná nevraživosť na seba nedá dlho čakať. Avšak táto posledné výprava autobusu Paradise Trips dá Máriovi šancu spomenúť si, aké je to tešiť sa zo života, užívať si ho a nemyslieť na starosti. A tak vďaka tomu dostane druhú šancu nájsť cestu k svojmu synovi, ktorého roky nevidel.
Režisér
Raf Reyntjens (1975)
Raf Reyntjens získal v roku 1999 diplom na RITS (Royal Institute for Theatre, Cinema and Aound) v Bruseli a odvtedy si už stihol vybudovať významnú kariéru ako režisér krátkych filmov, hudobných videí a reklám. Pre rappera Paula Vana Havera, známeho pod menom Stromae, nakrútil klipy k piesňam Papaoutai, Peace alebo Violence, ktoré na YouTube zaznamenali viac ako 200 miliónov vzhliadnutí. Raf Reyntjens tiež napísal a režíroval dva oceňované krátke filmy: snímku A Message from Outer Space bol uvedený na množstve svetových festivalov a Tunnelrat bol súčasťou výstavy The Great War: A Cinematic Legacy v múzeu MoMa v New Yorku. Paradise Trips je jeho prvý celovečerný film.
Ocenenia
Festival Oostende FF 2015 – Najlepší herec (Gene Bervoets), Najlepšie kostýmy, Industry Award, Najlepší flámsky film – Cena pre mladých tvorcov 2015
Réžia: Raf Reyntjens
Scenár: Raf Reyntjens
Kamera: Rik Zang
Strih: Els Voorspoels
Hudba: David Van der Heijden
Hrajú: Gene Bervoets
Jeroen Perceval a ďalší.