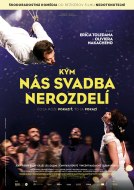 Eric Toledano, Olivier Nakache
115 min.
2017
filmový klub Otáznik – kino Junior Levice
Vstupné 3,-€ a 5,-€ bez preukazu FK
Jedna svadba na luxusnom zámku a celá kopa problémov.
Keď organizujete dokonale premyslenú, luxusnú svadbu na francúzskom zámku zo 17. storočia, je jasné, že to neprebehne úplne hladko. A ak sa má niečo pokaziť, verte tomu, že sa to naozaj pokazí a nezostane len pri tom. Profesionálna svadobná agentúra má na problémy 24 hodín a za tých sa toho môžete stať naozaj veľa. Obzvlášť keď šéf agentúry z priateľstva zamestná dotieravého fotografa, ktorého viac ako fotenie zaujíma svadobné pohostenie; nájde záskok za kapelu, ale pre tú je decentná zábava neznámym pojmom; a ženíchove polnočné prekvapenie definitívne zmení celú svadbu na grotesku. Nová komédia od režisérov filmu Nedotknuteľní, ktorej zdroj inšpirácie boli nepochybne aj Divoké historky, poteší srdce každého (aspoň trocha) škodoradostného diváka.
Režisér
Olivier Nakache (1973) a Eric Toledano (1971)
Nakache Toledano filmársky spolupracujú od roku 1995. Stretli sa však, už keď mal Nakache sedemnásť a Toledano devätnásť, v letnom tábore vo Francúzsku. Obaja boli vtedy veľkými fanúšikmi Woodyho Allena a obaja chceli skúsiť filmovú kariéru. Odvtedy vytvorili 4 krátkometrážne a 5 celovečerných filmov, pričom vo svojich dielach často pretáčajú sociálne klišé naruby. Ich najväčším doterajším sú Nedotknuteľní z roku 2011, ktorých celkové tržby sa vyšplhali až na 426 miliónov dolárov. Pred dvoma rokmi priniesli slovenským divákom aj film Samba.
Réžia: Eric Toledano, Olivier Nakache
Scenár: Eric Toledano, Olivier Nakache
Kamera: David Chizallet
Strih: Dorian Rigal – Ansous
Hudba: Avishai Cohen
Hrajú: Jean – Pierre Bacri
Jean – Paul Rouve
Gilles Lellouche
Suzanne Clément a ďalší.