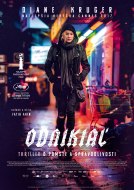 filmový klub Otáznik – kino Junior Levice
Vstupné 3,-€ a 5,-€ bez preukazu FK
Je možné dosiahnuť spravodlivosť v svete plnom predsudkov a nenávisti?
Katja je vydatá a spolu so svojím mužom Nurim a synom Roccom žije spokojným životom. Stačí však jeden moment a jej život sa zmení. Manžel aj syn zomierajú pri bombovom útoku. Je rozhodnutá urobiť všetko, aby dosiahla spravodlivosti. Môže sa jej to podariť?
Fatih Akin (1973)
Narodil v Hamburgu v rodine tureckých imigrantov. Študoval na Vysokej škole výtvarných umení. Po dvoch krátkych filmoch nakrútil v roku 1998 úspešný celovečerný film Kurz und schmerzlos (Rýchlo a bezbolestne). Nasledovali road movie V júli s Moritzom Bleibtreuom a Christiane Paul a dokument Denk ich an Deutschland – Wir haben vergessen zurückzukehren (Myslím na Nemecko: Zabudli sme sa vrátiť), ktorý zachytával prisťahovalecký príbeh jeho rodičov. Jeho celovečerný film Solino z roku 2002 rozpráva o rodine talianskych prisťahovalcov v Nemecku. Na medzinárodnej scéne prerazil filmom Proti múru, za ktorý získal Zlatého medveďa a nemeckú a európsku filmovú cenu. V snímke Crossing the Bridge – Zvuk Istanbulu zdokumentoval rozmanitosť istanbulskej hudobnej scény. Jeho celovečerný film z roku 2007 Na druhej strane bol v Cannes ocenený za najlepší scenár. Nasledujúci rok režíroval jednu z epizód poviedkového filmu New Yorku, milujem ťa. Komédiou Soul Kitchen vytvoril pomník svojmu rodnému mestu a získal za ňu zvláštnu cenu poroty v Benátkach. Pri nakrúcaní dokumentu Der Müll im Garten Eden (Odpadky v raji) sledoval niekoľko rokov, ako je poškodzované životné prostredie v rodnej dedine jeho predkova v Turecku. Jeho celovečerný film Šrám mal premiéru na festivale v Benátkach. Jeho posledný film Odnikiaľ s Diane Kruger v hlavnej úlohe sa prvýkrát premietal v roku 2017 na festivale v Cannes.
Réžia: Fatih Akin
Scenár: Fatih Akin, Hark Bohm
Kamera: Rainer Klausmann
Strih: Andrew Bird
Hrajú: Diane Kruger, Denis Moschitto, Numan Acar, Johannes Krisch a ďalší.
Ocenenia